Subscribe to the RSS Feed for this blog.
When I was a little kid, my dream job was to be an astronaut; specifically, I wanted to be the first woman on Mars.  No surprise, then,  that I was glued to the radio yesterday listening to NASA command center as Curiosity successfully landed on Mars.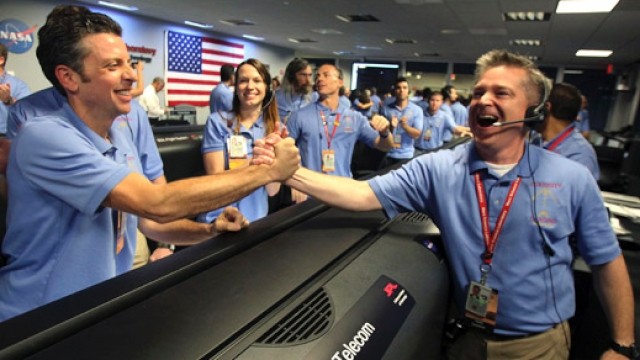 Two things stood out for me:
1. The bold goal, stated out loud, of having humans on Mars in the 2030s. Saying your goal out loud sets it in motion, compels you to act. The bigger the goal, the more important it is to say it loud; it will gather energy and support will rally around you. Believe in your bold goal and circumstances seem to line up for you, opportunities will appear. If your network is less than encouraging, find a new support network. It's your dream; it deserves strong, sustaining, support.
2. Just like JFK's stated goal of putting a man on the moon, the path to putting humans on Mars may not be clear, the steps not yet clearly defined. What matters is taking a step that hadn't been taken before; amazing things can be learned by taking action. Entrepreneurs like to be in control; when we don't know the exact path to take it can prevent us from acting. No matter if humans are on Mars in 2039 or never, I guarantee that scientists will know more by sending Curiosity into orbit. Small business owners will be farther ahead by trying something they haven't tried before, by being curious. 
Command center's chatter stays in my mind, and I can't stop imagining what it felt to be in the room as milestone after milestone was checked off as successful. NASA team members celebrated the success, yet acknowledged that it is but a step along the bigger journey. One employee couldn't have summed it up better, for them or for business owners, when he said, "Let's see where Curiosity takes us." Explore.
– Helen Dutton, Business Coach
photo credit: Brian van der Brug-Pool/Getty Images